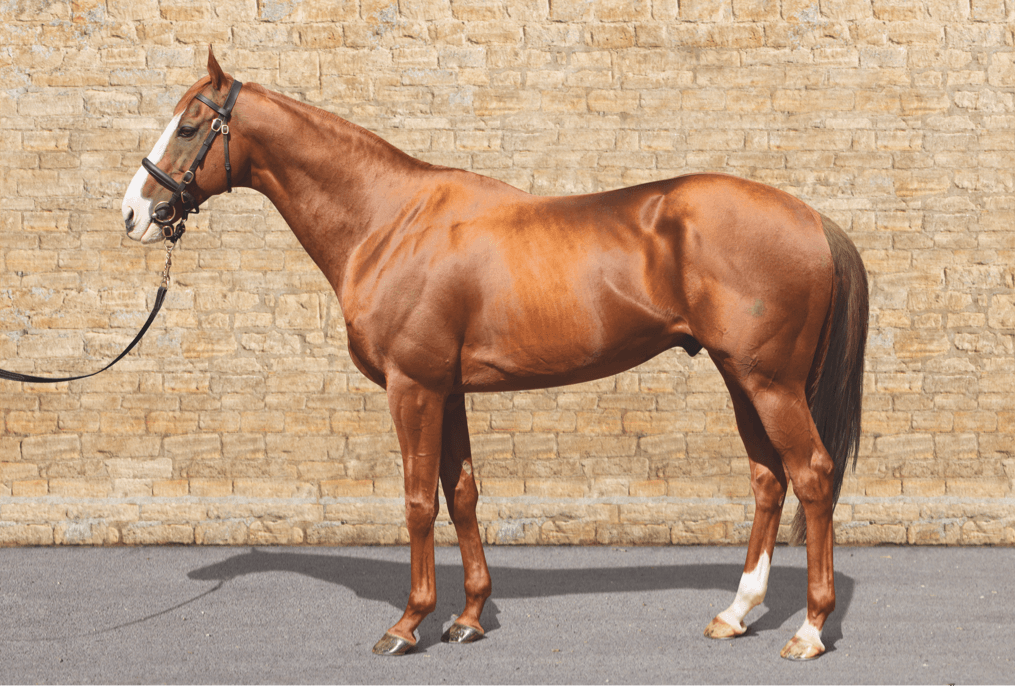 'Cityscape {16.1HH} is the spitting image of his sire, Selkirk, who served the breeding industry so well. He is a noble horse ~ very bold, tough and brave ~ and he's a good mover with a wonderful temperament. Consistency is his middle name and he had terrific speed. The performance he put up in the Duty Free was incredible, breathtaking! It was a course record, and he won easing down. And to run second twice to Excelebration ~ quite something when you remember that on official ratings Excelebration is the best horse Aidan O'Brien has ever trained.' ROGER CHARLTON
| Age | Starts | 1st | 2nd | 3rd | 4th |
| --- | --- | --- | --- | --- | --- |
| Two | 3 | 1 | 2 | – | – |
| Three | 2 | – | 1 | – | – |
| Four | 4 | 2 | 1 | – | 1 |
| Five | 7 | 2 | 3 | 1 | – |
| Six | 6 | 1 | 2 | 1 | 1 |
| Seven | 1 | – | – | – | – |
| Total | 23 | 6 | 9 | 2 | 2 |
TIMEFORM 127
At 2
1st

Novice race

, 8f, Salisbury, by nine lengths, beating Chiberta King, Akhenaten

2nd

Royal Lodge Stakes (G2), 8f, Ascot, beaten 3/4 length by Jukebox Jury, in a new juvenile course record time, beating Orizaba, Firth Of Fifth, Chater Way.
At 3
2nd

Greenham Stakes (G3), 7f, Newbury to Vocalised, beating Sri Putra, Shaweel.
At 4
1st

Joel Stakes (G3), 8f, Newmarket, by seven lengths, beating Penitent, Alexandros, Premio Loco, Awzaan.

1st

Superior Mile

, 8f, Haydock, beating Secrecy, Awzaan, Ordnance Row, Fanunalter.

2nd

Paradise Stakes

, 8f, Ascot.
At 5
1st

Prix Perth (G3), 8f, Saint-Cloud, beating Sommerabend, Akarlina, Skins Game, Liang Kay, Polytechnicien, Nova Hawk, Rockatella.

1st

Solonaway Stakes (G3), 8f, The Curragh, beating Wild Wind, Across The Rhine.

2nd

Hong Kong Mile (G1), 8f, Sha Tin, beaten a neck by Able One, beating Xtension, Dubawi Gold, Beauty Flash, Rajsaman, Sahpresa, Jimmy Choux, Apapane.

2nd

Premio Vittorio di Capua (G1), 8f, Milan, beaten a short-head by Dick Turpin, beating Vanjura, Fanunalter, Shamalgan.

2nd

Sandown Mile (G2), 8f, Sandown, to Dick Turpin beating Music Show.

3rd

Queen Anne Stakes (G1), 8f, Royal Ascot, to Canford Cliffs and Goldikova, beating Rio de la Plata, Cape Blanco, Ransom Note.
At 6
1st

Dubai Duty Free (G1), 9f, Meydan, by four-and-a-quarter lengths, in a new course record time, beating Rio de la Plata, Await The Dawn, Xtension, Musir, Delegator, Presvis, Wigmore Hall, Ambitious Dragon, California Memory.

2nd

Queen Elizabeth II Stakes (G1), 8f, Ascot, to Excelebration, beating Elusive Kate, Most Improved, Side Glance, Carlton House, Sovereign Debt, Indomito.

2nd

Prix Jacques le Marois (G1), 8f, Deauville, beaten one-and-a-quarter lengths by Excelebration, beating Moonlight Cloud, Elusive Kate, Immortal Verse, Tin Horse, Most Improved, Fallen For You, Golden Lilac, Indomito, Casper Netscher.

3rd

Woodbine Mile (G1), 8f, Woodbine, to Wise Dan conceding 3lb, beating Worthadd, Big Band Sound, Riding The River.

4th

Eclipse Stakes (G1), 10f, Sandown, to Nathaniel, Farrh, Twice Over, beating Monterosso, Crackerjack King, Bonfire, Sri Putra, City Style.
1st Dubai Duty Free (G1), 9f Meydan, in a new course record time
1st Joel Stakes (G3), 8f Newmarket, by seven lengths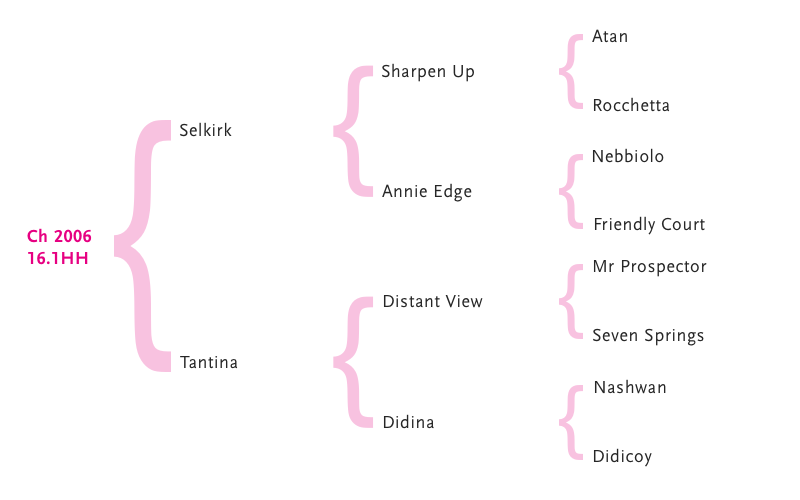 By SELKIRK (1988) 6 wins, 2 to 4, G1 Queen Elizabeth II S. Sire of 812 runners, 63% winners, 12% Stakes winners, including CITYSCAPE, ANNOUNCE, DARYAKANA, FAVOURABLE TERMS, FIELD OF HOPE, KASTORIA, NAHRAIN, RED BLOOM, SQUEAK, SULK, THISTLE BIRD, WINCE, etc.
1st Dam
TANTINA (USA), won 4 races at 3 years including Oak Tree Stakes, Goodwood, L. and Sceptre Stakes, Doncaster, L., placed once, all her starts;
dam of 4 winners including
CITYSCAPE (GB) (2006 c. by Selkirk (USA)), subject stallion.
BATED BREATH (GB) (2007 c. by Dansili (GB)), won 6 races and £419,945 including Temple Stakes, Haydock Park, Gr.2, Leisure Stakes, Windsor, L., second in July Cup, Newmarket, Gr.1, King's Stand Stakes, Ascot, Gr.1; sire.
Scuffle (GB) (2005 f. by Daylami (IRE)), won 3 races at 3 years and £26,855, placed third in Snowdrop Stakes, Kempton Park, L.; dam of 5 winners.
LOGICIAN (GB) (c. by Frankel (GB)), 5 races at 3 years, 2019, £514,013 including St Leger Stakes, Doncaster, Gr.1, Great Voltigeur Stakes, Gr.2.
SUFFUSED (GB) (f. by Champs Elysees (GB)), 7 races including Glens Falls Stakes, Saratoga, Gr.3, second in E P Taylor Stakes, Woodbine, Gr.1.
Tarentaise (GB) (2009 f. by Oasis Dream (GB)), unraced; dam of a winner.
EQUILATERAL (GB) (c. by Equiano (FR)), 4 races at 2 to 4 years, 2019 including Scarbrough Stakes, L., second in Palace House Stakes, Gr.3.
2nd Dam
DIDINA (GB), won 5 races including Dahlia Handicap, Hollywood Park, Gr.2;
dam of 7 winners including
COLONIALISM (USA) (c. by Empire Maker (USA)), won 9 races in Chile and in U.S.A. including Premio Ilustre Municipalidad de Santiago, Club Hipico, L.